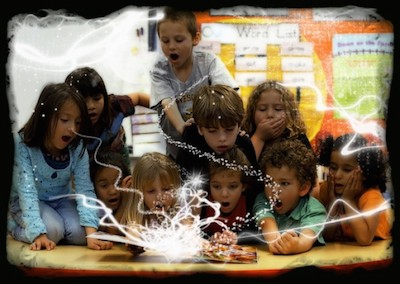 Ralph Waldo Emerson said, "The secret of education lies in respecting the pupil." At the Elementary Department of CSDR we could not agree more! We believe it is our responsibility as educators to encourage students to reach their personal best and to develop a lifelong love of learning.
Our department serves students in the Early Start program, ages 18 months to 2.11 years old; two levels of Preschool- a half day program for the age 3 group and a full-day program for the age 4 group; Transitional Kindergarten, and Kindergarten; as well as grades 1-5. We use state recommended curriculum supplemented with ASL/bilingual resources. Our caring and experienced team of teachers works closely with curriculum and teacher specialists to ensure the highest quality of education for all our students.
In early childhood education, our goal is that all children who come to CSDR enjoy learning in a positive environment and we strive as a team to make sure that every child blooms academically each and every day. Family ties and communication are the most important part of a young child's life. One of our main goals is to develop a strong partnership between teachers and families to foster respect, support, and empower the child to achieve key goals. Young children learn best by doing. It requires active thinking and experimenting to find out how things work and to learn firsthand about the world we live in. Play is a powerful component in the lives of children. It is the natural way children learn and develop. Play is an important time that allows the children to develop skills and grow as individuals.
Students in grades K-5 use state- recommended curriculum including a reading program by McGraw-Hill and Singapore Math by Marshall Cavendish, with supplemented ASL/Bilingual resources. Our caring and experienced team of teachers works closely with curriculum and teacher specialists to ensure the highest quality of education for all our students.
To meet the children's language needs, instruction at CSDR follows the ASL/English bilingual philosophy. This allows content to be taught through both academic and social ASL and English in order for our students to develop competencies in both their first and natural language (ASL) as well as their second language (written English), as it is critical to their academic success.
Please feel free to contact me for further information or to come and see us.
Inside the Early Childhood Education Classrooms
---
EARLY START PROGRAM
Early Start serves children from 18 months to 2.11 years old. The goal to give little ones all the experiences we possibly can that will enable them to move on to preschool with the language and self-confidence needed in order to have a successful journey.
The early years in a child's life are a very important time since this is where the foundation is laid for all future learning. Learning to enjoy books and stories is a valued gift for children. Book sharing, the sharing of stories in books through storytelling and book experiences, promotes language development by providing new and exciting vocabulary in a fun way! It also encourages an interest in books and motivates children's learning. Children not only have stories told to them, but they also have personal experiences with books during DEAR (Drop Everything and Read) time. It is a time for children to look at books, share books, and observe adults as they model book reading.
Circle time provides opportunities to develop good listening and language skills through thematic lessons and discussions. New ideas and concepts are introduced to develop pre-academic skills necessary for preschool and kindergarten readiness. It allows a time for the child to develop the understanding of where important information comes from. Children are exposed to books, lessons and activities that lead to discussions encouraging the child to freely express themselves.
Cooking plays a big part in the learning experiences for our Early Start students. They develop new social skills, cognitive skills, and motor skills. They learn to work cooperatively by taking turns, sharing, and passing utensils. They use their critical thinking and learn what it takes to make something. They learn to mold, knead, and stir as they develop both large and small muscles. Cooking involves eye-hand coordination, too. There is so much they can learn from just cooking alone. This is why we recommend that families work closely with their child at home even by cooking together!
---
---
PRESCHOOL
Preschool includes the fundamental learning skills used in signing, reading, writing, and math that will carry a child into adulthood and into success. Our program uses a combination of Developmentally Appropriate Practices (DAP) and Creative Curriculum. These are guidelines that promote children's cognitive and language development in order to prepare youngsters for more advanced lessons when they begin Kindergarten. Transitional Kindergarten and Kindergarten use California Content Standards which provide a strong foundation for learning in the subject areas of literature, math, science, social students, the arts, and technology through a variety of classroom experiences.
KINDERGARTEN
In Kindergarten we support the theory of Multiple Intelligences. By using these teaching techniques, we provide students enriching opportunities to for learning in a variety of areas such as language development, creativity, and social/emotional development. Kindergarten makes learning fun. We host exciting events throughout the school year. For instance, we provide students with storytelling using a variety of deaf individuals signing the stories in ASL to expose students to positive role models and enhance their deaf identity. We also guide students through adventures of some popular fables and review the morals of the story. At CSDR we believe that kindergarten is many times the student's first step in their educational journey and we strive to make it a positive and productive experience.
EDUCATIONAL AND SPECIAL PROGRAMS
---
Refer to the Curriculum and Assessment and Intervention sections for these components of our educational program. In addition, we offer exciting academic activities that are unique to the Elementary department for students in Early Childhood Education and Elementary grades K-5. Class performances. ASL classes, ASL Showcase, International Day of Sign Languages, Author's Chair, Math Olympiad, and a Science Fair to name just a few. We also get students involved in Character Counts! and P.A.W.S. to inspire our youth to become responsible learners who care about themselves, their community, and others.
Art Festival for Early Childhood Education
The Art Festival gives parents, teachers, and others in the deaf community an opportunity to see and enjoy the artwork that has been done by our little cubbies. During the Art Festival, children get an exciting opportunity to participate in hands-on art activities. As a fundraiser, children are given a personalized tile to decorate, and each personalized tile will be posted in the wall mural in the early childhood education department. All funds raised from this project will go toward ordering educational supplies.
American Sign Language Class for Early Childhood Students
ASL classes are provided that focus on first language acquisition, a fundamental right for our deaf children. Our ASL teacher works with all students in the afternoons. ASL lessons and activities involve playing with the language, including hand shapes, facial expressions, classifiers, body shifting. These are all important elements for students' story retellings. The students provide four theatre productions a year, and participate in video-taped sessions of their language development over the year's course, which culminates in a DVD final product for the students to take home.
Cubs Honor Assembly
We recognize our students at our end-of-trimester Cubs Honor Assembly for their academic achievements, displaying their best efforts in classes, exhibiting excellent character, and being role models for others. Students and teachers look forward to this assembly at the end of each trimester, to celebrate and congratulate one another for their outstanding accomplishments in education!
Author's Chair
Elementary students experience the excitement of sharing their writing with an audience during Author's Chair. Using the latest technology, students project their work on a screen for everyone in the department to see. The writing has already gone through editing and revisions in the classroom, allowing students to receive positive feedback on their final drafts. There are many benefits to this special event. For example, it provides a purpose for students to be creative and to do their best work. It also teaches students the concept of authorship and pride in their creations. Students learn how to share work in front of an audience, and the audience participants learn to show proper recognition to the authors. It is a fun event for everyone involved!
Spelling Bee
Each year our fourth and fifth graders compete in our annual Spelling Bee, with recognition to the winner at our end of the year awards. Students compete against each other in order to earn points and advance to the next stage of the competition. Students are given a word and its meaning and then asked to spell it clearly and without error. The final stage of the Spelling Bee is done in front of a live audience, adding to the excitement and thrill of the competition.
Science Fair
Each year our fourth and fifth graders compete individually in our Annual Science Fair (third graders work together on one experiment and display their findings at the Science Fair). The Science Fair allows students to explore a topic that interests them and get creative as they learn. Elementary School Science Fairs typically deal with subjects such as math, weather, animals, chemistry or space. Our students display their work and present their finding to both their peers and judges alike. Winners are announced at our Cubs Honor Assembly and we award special prizes for their hard work.
Parent Opportunities
---
Parent Workshops occur several times a year, offering information for families. A variety of topics are covered, such as "Literacy, Laughter, and Learning," Bully Prevention/Victim Proofing, Math Modeling, and Literacy Support for the Home, and ASL classes. It is a great time for parents and family to learn information to support learning at home and it is also a valuable time to meet other families. Childcare is offered during these sessions.
Parent Participation
Active parental participation is encouraged by teachers who view this cooperative relationship as a positive addition in the home environment. Working together, we establish the foundation for children to grow into caring and contributing adults.
Parent Volunteers
We love volunteers to help in our department. We can use parents in the classroom or behind the scenes with at home support. If you are interested in volunteering in the classroom, please contact the office and we will be sure to help you with the requirements. You can either be in your child's classroom or where help is needed within the department. Behind the scenes can be helping the teachers with classroom preparations at home such as helping the teachers with cutting and prepping materials for lessons.
Box Tops for Education and Labels for Education
Box Tops for Education is a program that helps to earn cash for our school. Visit Box Tops for Education more information and to see which products that sponsor this program.
Labels for Education is a program that helps us to earn points to purchase art and athletic supplies for the school. Visit Labels for Education for more information and to see a list of products that sponsor this program.
Collect box tops and labels and send them to school with your child!