Distance Learning Plan In Response to Any Disaster
---
We have created this plan to aid in navigating the establishment of our school, where teachers, support staff, students, and families understand the importance of teaching and learning online.
This approach involves more than just uploading files and video links to a learning management system (LMS). Teaching remotely or virtually is a skill to be learned. The guidelines have references in this plan based on information provided by California Department of Education (CDE). Regular updates will be made to this plan.
GUIDING PRINCIPLES
The following are guiding principles to support distance learning. Further in this document, you will find specific examples of how these principles will be modeled in CSDR distance learning.
Designed around content and standards necessary for students within their age appropriate learning program for the duration of the school's physical closure.
Provides a continuum of delivery options to meet the various needs of students, families and teachers.
Developed with a continuum of delivery methods, such as the use of guided activities, innovative use of media, digital packets, or various communications technology.
Ensures guidance is provided to effectively differentiate instruction to support students in their learning; including students with IEP goals.
OVERVIEW
Continuity and Equity of Education Plan
California School for the Deaf, Riverside views the use of digital resources as central to the delivery of its education program and expects that all students will use digital resources as an essential part of their learning experiences. It is the policy of CSDR to maintain an environment that promotes ethical and responsible conduct in all digital resource activities. With this privilege and extraordinary opportunity to explore resources, come responsibilities for the parent and for the student. During student registration, you are given the opportunity to view the Acceptable Use Agreement and during the processes you acknowledge that you understand and accept the information in this document.
The goal of the Continuity and Equity of Education Plan is to ensure that CSDR continues to meet the educational needs of all students during a prolonged school closure. All students in grades K-12 will be provided school-issued devices that can be utilized at home. We will follow full-continuation: Students will be able to access grade-level and subject-matter content. Instructional support is provided, including assessment and evaluation of work. Measurable student progress is expected.
Below you will find a link to our Coronavirus (COVID-19) website. The links on the left also provide resources for families to obtain broadband internet at their home at low or no cost.
CSDR has provided a curated list of online resources to provide enrichment opportunities, reinforce prior learning, and provide a springboard for other independent learning activities that support the academic and emotional wellbeing of our students. These resources are for students and parents/guardians who might be looking for other activities to engage students while at home.
Technology Services Support
Technology Services is prepared to support our students, staff members, and families with technology for continuity of instruction.
ONLINE INSTRUCTION
Distance learning is a class or course that is built and delivered fully online. Students in this model spend 100% of their time online with choice over time, place, path or pace in the learning.
ONLINE BELL SCHEDULE
CSDR Early Childhood Education Programs - 2020-2021 School Year Distance Learning Schedule
Teachers will explain their schedule and preferred method to parents and students. General activities are developed within the framework. Learning goals and timelines have been established by the CSDR Early Childhood Education.
Students and Parents/Guardians will be provided with guided learning activities developed by child's teacher. Packets will be prepared for at home family interaction and completion. Checklists will be included to monitor this process.
Child's teacher will be available during each day for guidance and discussion with parents via the method of contact teacher/parent and/or guardians have established. Should the families of student's have any questions or concerns, parents/guardians, contact child's teacher directly.
CSDR Elementary Programs - 2020-2021 School Year Distance Learning Schedule
The CDE/Governor have required that live instruction and opportunities for peer interaction happen daily. Formal attendance will be taken daily. The Elementary Department is required to provide 4 hours (3 hours 50 min for Kinder) on a daily basis. This is a combination of live and independent work which does not include homework (which can be added for extra practice and projects).
| Time Period | Monday | Tuesday | Wednesday | Thursday | Friday |
| --- | --- | --- | --- | --- | --- |
| 9:30 am | Live Office hours* - Class Check in - formal attendance taken | Class (Subject) Check in - formal attendance taken | Class (Subject) Check in - formal attendance taken | Class (Subject) Check in - formal attendance taken | Class (Subject) Check in - formal attendance taken |
| 11:00 am | Enrichment* - Class Check in - informal attendance taken | Class (Subject) Check in - informal attendance taken | Class (Subject) Check in - informal attendance taken | Class (Subject) Check in - informal attendance taken | Class (Subject) Check in - informal attendance taken |
| 12:00-1:00 pm | Lunch | Lunch | Lunch | Lunch | Lunch |
| 1:00 pm | 1:1 Tutoring - Class Check in - informal attendance taken | Class (Subject) Check in - informal attendance taken | Class (Subject) Check in - informal attendance taken | Class (Subject) Check in - informal attendance taken | Class (Subject) Check in - informal attendance taken |
| 2:30 pm | School is out | School is out | School is out | School is out | School is out |
If a student qualifies for chronic absenteeism or if their grades fall below satisfactory - time after 2:30 will be assigned for 1:1 time
*Schedule subject to grade level adjustments
*Live Office Hours - Student check in for formal attendance. Teachers will all have open live hours for students. To meet individual needs, teacher can schedule 1:1 time with their students.
*Monday Enrichment - Storytelling, Math Fact Practice (flash cards), Spelling/Vocab Practice
*Tutoring will be provided by TAs and Teachers on an as needed basis.
CSDR Middle School Programs - 2020-2021 School Year Distance Learning Schedule
| Time Period | Monday | Tuesday | Wednesday | Thursday | Friday |
| --- | --- | --- | --- | --- | --- |
| 8:30-9:30 am | 2nd Period | 1st Period | 2nd Period | 1st Period | Flex period |
| 10:00-11:00 am | 4th Period | 3rd Period | 4th Period | 3rd Period | Study Centers |
| 11:30 am-12:30 pm | 6th Period | 5th Period | 6th Period | 5th Period | Study Centers |
| 12:30-1:30 pm | Lunch | Lunch | Lunch | Lunch | Study Centers |
| 1:30-2:30 pm | Office Hours | 7th Period | Office Hours | 7th Period | Study Centers |
CSDR High School Programs - 2020-2021 School Year Distance Learning Schedule
| Time Period | Monday | Tuesday | Wednesday | Thursday | Friday |
| --- | --- | --- | --- | --- | --- |
| 8:30-9:30 am | Flex period | 1st Period | 2nd Period | 1st Period | 2nd Period |
| 10:00-11:00 am | Study Centers | 3rd Period | 4th Period | 3rd Period | 4th Period |
| 11:30 am-12:30 pm | Study Centers | 5th Period | 6th Period | 5th Period | 6th Period |
| 12:30-1:30 pm | Study Centers | Lunch | Lunch | Lunch | Lunch |
| 1:30-2:30 pm | Study Centers | 7th Period | Study Centers | 7th Period | Study Centers |
Flex period
Students will be required to log in with their Grade Level Sponsors for Live Check-in once a week. Activities may include: School News broadcasts for the week, Study Center assignments, etc.
Study Centers
Study centers provide students opportunities to work either on an individual basis or a group-based basis with teachers/TAs on a wide variety of subjects, including core classes, elective classes, student clubs/organizations, and other educational activities such as special workshops and/or projects.
Students will be assigned to a 1:1 session with their teacher if their grade is falling below 60%.
Students will be assigned a 1:1 session with an assigned TA for skill practice or guidance with questions about their assignments.
Students will be assigned DIS service time as indicated in their IEP.
Student groups (ie. Leadership, Battle of the Books, Math Counts, Deaf Academic Bowl, etc) will have scheduled assigned sessions with sponsors.
Office Hours
Teachers will all have open live hours that students can sign into for individual times to get assistance and support. If multiple students from different assigned classes sign in together, the teacher will reschedule some of those students for times during the Study Center time.
PLATFORMS at CSDR
The following Online Platforms support both Distance Learning and teachers/support staff/students/family collaboration to ensure a quality student learning experience when planning and delivering remotely.
Office 365 tools (including Microsoft Teams) as well as Zoom are the online Distance Learning platform used in all academic departments.
Office 365 tools (e.g. email, shared docs, OneNote, Microsoft Teams, SharePoint) and Zoom are the teacher/support staff online collaboration platforms for remote instructional planning.
In addition to the above resources, we encourage teachers/support staff/students/families to contact the department for any technology related question and to expect a response within 24 hours.
ONLINE PLATFORM
Microsoft 365 Team is our online component to help deliver daily/weekly live and recorded instruction from the classroom teacher. Models of distance learning are designed by the teachers based on students' educational needs. Daily online learning includes:
each recorded lesson aligned to grade/subject standards
Design student independent work based on lesson (base, project, journal, etc.)
Evaluate students' learning of standards
Communicate progress and connect with students
ROLES and RESPONSBILITIES (School)
Leadership Team:
Develop departmental plans for distance learning.
Supervisors, Principals:
Communicate with teachers/support staff and parents.
Support teachers/support staff/parents during Distance Learning.
Ensure effective implementation of Distance Learning plan and accountability to student learning.
Classroom Teachers:
Collaborate with colleagues to design Distance Learning experiences for students in accordance with departmental plans.
Develop high-quality student learning experiences.
Communicate with and provide timely feedback to students.
Communicate with parents, as necessary.
Create developmentally appropriate lessons according to IEP goals.

Support Staff (i.e. speech teachers, school counselors, student support staff)
Counselors:
Create developmentally appropriate videos regarding self-regulation, anxiety and/or wellness strategies that students can practice during this time of Distance Learning.
Provide developmentally appropriate "blog-type" statement/s that include resources regarding anxiety, isolation, health and wellbeing particular to grade level(s).
Respond to counseling needs of students, as needed.
Speech Teachers:
Curate and/or develop resources/lessons to support students with IEP related services.
Curriculum, Data, Instruction and Advancement Staff
Provide support and assistance to assigned subject area teachers as requested.
Curate curriculum/resources for teachers to support the development of high-quality online learning experiences for students.
Create screencasts, videos, videocasts or other how-to-resources for teachers.
Teaching Assistants
Provide support and assistance to assigned grade level and/or subject area as requested by teachers.
ROLES and RESPONSBILITIES (Students)
Students:
Dedicate appropriate time to learning according to the schedule and/or as guided by your teacher/s.
Check appropriate online platforms for information for classes/courses, assignments, resources daily.
Attend, as much as possible.
Identify a comfortable and quiet space to study/learn.
Engage in all learning posted with academic honesty.
Submit all assignments in accordance with provided timeline and/or due dates.
Ensure own social and emotional balance by keeping healthy habits.
A course, an assignment a resource - relevant teacher-use email or Teams chat
A technology issue/request - let teacher know; teacher will communicate with department
Any other issue related to distance learning - Department principal/supervisor
ROLES and RESPONSBILITIES (Parents)
Parents: Support their child/ren in their learning by:
Providing an environment conducive to learning (access to technology, safe and quiet space during daytime).
Engaging in conversations on posted materials, assignments.
Monitoring time spent engaging in online and offline learning, including variables like that of preferred learning times (morning, afternoon, evening).
Encouraging attendance, as much as possible, to the regular engagements offered by each of their child's teacher/s.
Support emotional balance by providing ample room and time for reflection, physical activity, conversation, and play.
A course, an assignment a resource - relevant teacher-use email or Teams chat
A technology issue/request - Department Office Technician
Any other issue related to distance learning - Department principal/supervisor
COMMUNICATION METHODS
To stay updated on the most up-to-date information:
Teachers, students, and parents need to check their email often
Visit our school website
Follow our social media platforms
Microsoft 365 Teams
STUDENT SCHOOL-ISSUED DEVICE SET UP
Once a student receives a school-issued iPad, an instructional guide is provided. Be sure to use a disinfectant wipe to clean the iPad once a student receives it.
Instructions include:
Press Home button
Select English
Selected United States
Select Set Up Manually
Connect to your home Wi-Fi Network
Login using your credentials
Select Next on Remote Management screen
Select Enable Location Services
Select Get Started
Wait for the CSDR Default apps to be installed on your iPad (Word, Excel, OneDrive, etc.)
STUDENT GUIDE for MICROSOFT TEAMS using a school-issued iPad.
Locate the Self Service app on the home screen.

Download the Microsoft apps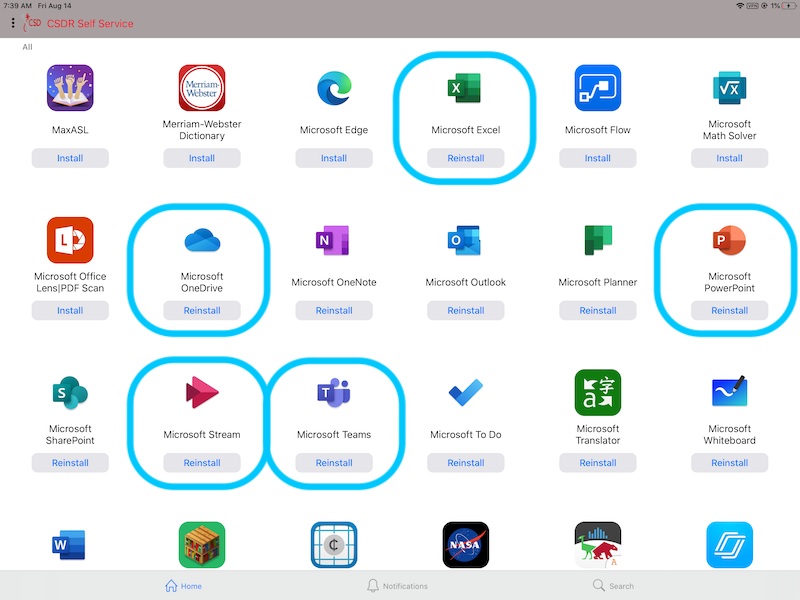 This opens up to all of the Microsoft Apps you have available to you through CSDR Self Service. The one you are going to need for CSDR distance learning is Teams.
Click on Teams and sign in using your login information.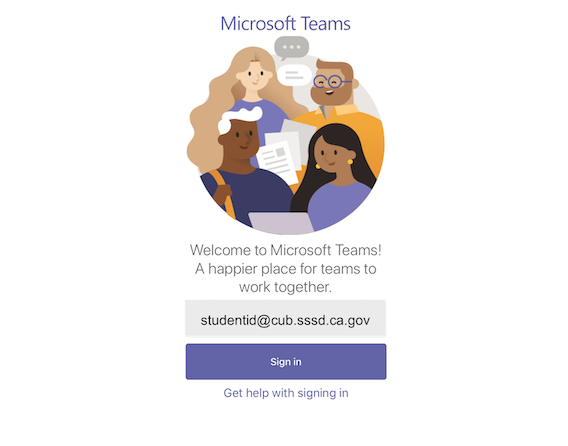 Be sure to click on the "Work or school account" created by the IT department.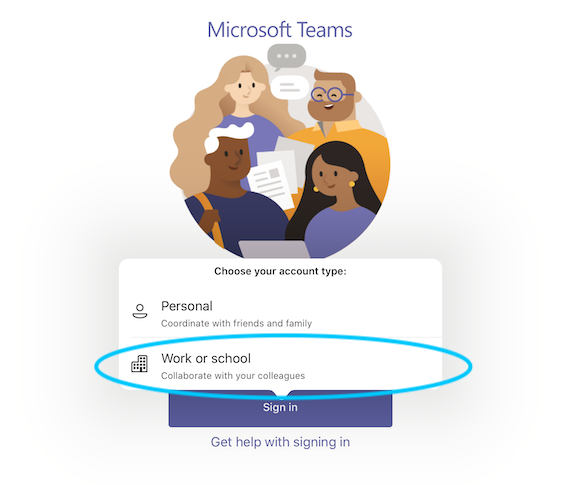 This will launch the Teams that have been set up for each of your classes. (The names might appear in two different ways.)
A name your teacher gave the Team.
Or, the way the class is listed in Focus.
To open up, you simply click on it.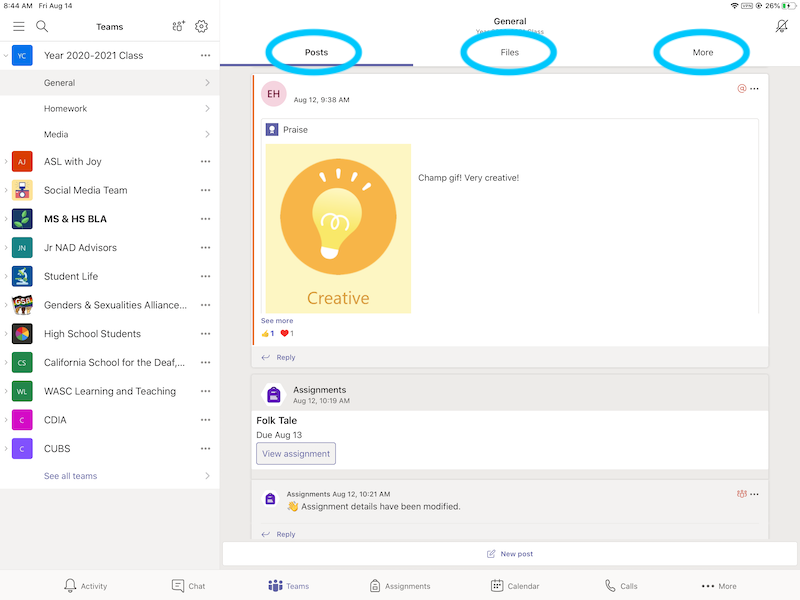 1. Once in the class, this is what you'll see. Each class will open up to "General Posts." This is where you'll see new assignments and announcements from your teacher.
2. Along the top of your Team page, you'll have various tabs. Your teacher may add more, so be sure to pay attention to this area.
The Files tab is where your teacher may upload class documents. These documents will be read-only, but you can open and download a copy if you would need to.
The Class Notebook will open up to your class OneNote. (if your teacher chooses to use this for notes or assignments, they'll give specific directions regarding that.)
The Assignments tab is where you will be able to see all the assignments that have been assigned to you.
Once you click on, "Assignments" this is what you'll see.

What has been assigned.
When it is due.
What you've already completed.
It is important to pay attention to due dates so you don't fall behind.
3. Important tasks to be reminded of:
If the teacher has provided specific instructions, they will show here.
If there are any documents or resources needed for the assignment, they will be here. Click to open and edit them.
If the teacher wants you to upload a new document, click on "+Add work"

Your teacher will be able to view and check your progress on an assignment even if you do not turn it in, so if you're stuck or you're not sure if you're doing something correctly, you can ask them to take a look at and provide help.
Important: In order for your teacher to know that you are completed with an assignment, you must push the TURN IN button in the top right.
Extra tips and tricks:
Download the Teams app on your iPad and have access to all your classes. This will also allow you to get notifications when a new assignment is available. Remember, your CSDR login is your username.
Stay on top of your assignments and due dates by checking in daily.
Remember to contact your teacher via email or by posting a question in Teams if you have any questions or problems.
General Information
Students in grades K-12 are given a school a 6 digit school ID number that will be used for student communication only.
Use of Student Messaging/Microsoft Teams Chat
Messaging/Team chat can be a powerful communication tool for students to increase communication and collaboration.
Students are encouraged to check their messages at least once per day.
Student may receive messages from their teachers to communicate reminders, course content, pose questions related to class work, etc.
Students may send messages to their teachers with questions or comments regarding class.
Students may send messages to other students to collaborate on group projects and assist with school classes.
Student Messaging/Microsoft Team Chat Permissions
Microsoft 365 messaging system controls whom messages can be sent to and whom they can be received from.
HS students can message HS students, MS students can message MS students, and both can message all staff.
HS and MS students cannot message elementary students or anyone outside the school domain.
HS students cannot use Team Chat to send a message to MS students or elementary students; MS students cannot use Team Chat to send a message to HS students or elementary students; Elementary students cannot use Team Chat to send a message to MS students and HS students.
HS and MS students cannot receive messages from outside the school domain.
Elementary students can message other elementary students and all staff.
Elementary students cannot message anyone outside the school domain.
Elementary students cannot receive messages from outside the school domain.
General Messaging/Microsoft Teams Chat Guidelines for Students
Below is a general summary of guidelines related to messaging
Messaging is to be used for school-related communication.
Do not send harassing messages or content.
Do not send offensive messages or content.
Do not send messages containing a virus or other malicious content.
Do not send or read messages at inappropriate times, such as during class instruction.
Do not send messages to share test answers or promote cheating in any way.
Do not use the account of another person.
Student Microsoft Teams Chat to Staff
Students are encouraged to message staff or use Team Chat concerning school-related content and questions.
Teachers will not be expected to answer student messages or Team chat outside of their regular workday, although they certainly may do so. For example, an unanswered message to a teacher would not excuse a student from turning in an assignment.
Monitoring and Filtering of Messages and Microsoft Teams Chat
All web traffic is monitored and filtered on all school iPads.
Rules/filters are setup to monitor student messages/Team chat for profanity, harassment, and other inappropriate content.
Student messages/Team chat that is identified as inappropriate will be blocked from delivery.
Expectation of Privacy
At any time and without prior notice, CSDR reserves the right to monitor, inspect, copy, review, and store any and all usage of the network and the Internet, as well as any information sent or received in connection with this usage. Because files remain the property of the school district, no one should have any expectation of privacy regarding such materials.
Laws & Regulations:
Become familiar with current laws and regulations around student data privacy and internet protection:
The Children's Internet Protection Act (CIPA)
Children's Online Privacy Protection Act (COPPA)
Family Educational Right and Privacy Act (FERPA)
STUDENT VIDEOCONFERENCING
While CSDR is physically closed, your teacher/s/support staff may provide the opportunity for virtual meetings via Microsoft Teams or alternative video conferencing software.
Student Life also uses this forum for students. Two Student Life staff will be present to monitor the virtual meetings and support positive conversations.
Participating in video conferences is a great way to stay connected with your teacher/s, support staff, and classmates, but it is important for you to follow these rules.
Remember that you are on camera and live
Your teacher/s/support staff and fellow students can see what you are wearing and your facial expression.
Find a quiet place in your house.
Dress appropriately, following school dress codes.
You are not anonymous
Be mindful of your expressions, signing tones, and what you say. Your signs and video are viewed by everyone participating in the conference.
Other people in your house can see what you and others in the video conference are saying.
Follow the same classroom rules that you would follow in real life
Attend to the teacher. Take turns to comment. Be kind and considerate.
Think before you speak
Stay on topic. Make sure your comments are clear and appropriate to the conversation.
Don't say anything you wouldn't say in your actual classroom.
Be a good listener.
Take the time to listen to what classmates/teacher/s are saying.
Don't interrupt others.
Think before you type
If your teacher/s enables the Chat feature you may be able to participate by typing into a chat box. Choose your words carefully.
Stay on topic.
Don't use sarcasm or humor that could be misunderstood.
Don't type in all caps.
Videoconferencing is a privilege.
If you cannot use it responsibly, your access to school managed videoconferencing tools will be blocked.
ACCEPTABLE USE AGREEMENT
The iPad is a school-issued property and all students are expected to follow the acceptable use policy for technology within CSD Riverside (Computer and Internet Acceptable Use Agreement).
According to the agreement:
I will not damage, steal, or destroy computer equipment.
I will not bring software to school.
I will not tell my password to other students.
I will not use instant messaging (AIM) or chat rooms.
I will use the Internet safely. I will not visit inappropriate sites.
I will not share personal information about myself on the Internet.
Accept liability for broken equipment.
Find a common area.
I agree to follow the CSDR computer and Internet rules. I understand that if I do not follow these rules, I will lose my computer privileges.. Students are held responsible for maintaining any technology device that is assigned to them and keeping it in good working order. iPads are intended for use at school each day. Having an iPad is a privilege, not a right. If damaged, students will be held responsible for the full amount of repair/replacement of damage or loss for the following reasons:
Damage caused by dishonest, fraudulent, intentional, or neglectful (not locked and/or stored in an insecure manner or location) behavior or criminal acts.
Damage incurred to a device that is not in the school-issued protective case.
"Jailbreaking" or otherwise voiding the manufacturer's warranty by altering the software. Jailbreaking is a term used to describe a process by which normal manufacturer controls of the device are bypassed. Jailbreaking of school-issued mobile devices is not permitted.
iPads that are broken, damaged or fail to work properly must be taken to Technology Services Division for evaluation of the equipment. If the equipment is found to be damaged, the student/parent will be contacted by the department principal. The student will not receive a replacement until the amount is paid in full.
Costs for iPad Repair or Replacement
| Cost / Replacement | Fee Paid |
| --- | --- |
| iPad and case lost/damaged | $429.00 |
| iPad and case stolen (police report required) | $0.00 |
| iPad case | $36.99 |
| Wired Belkin Keyboard | $55.00 |
| iPad Power adapter | $19.00 |
| iPad lightning cord | $19.00 |
| Jailbreaking (modifying the iOS to remove restrictions) | $120.00 |
| Asset Tag removal (determined by the principal for consequences) | TBD |
| iMac 21.5" on campus only | $1,599 |
| iMac 27" on campus only | $2,299 |
The following prices are estimates as exact costs for each repair will be made upon further inspection of the iPad or case.
When a student withdraws from CSDR, the Parent/Guardian/Adult Student must contact the principal to return their iPad and instructional materials within 7 days of withdrawal or make other arrangements to return these items. School-issued devices (i.e. iPad, keyboard) may not be taken out of the state of California.
DIGITAL CODE OF CONDUCT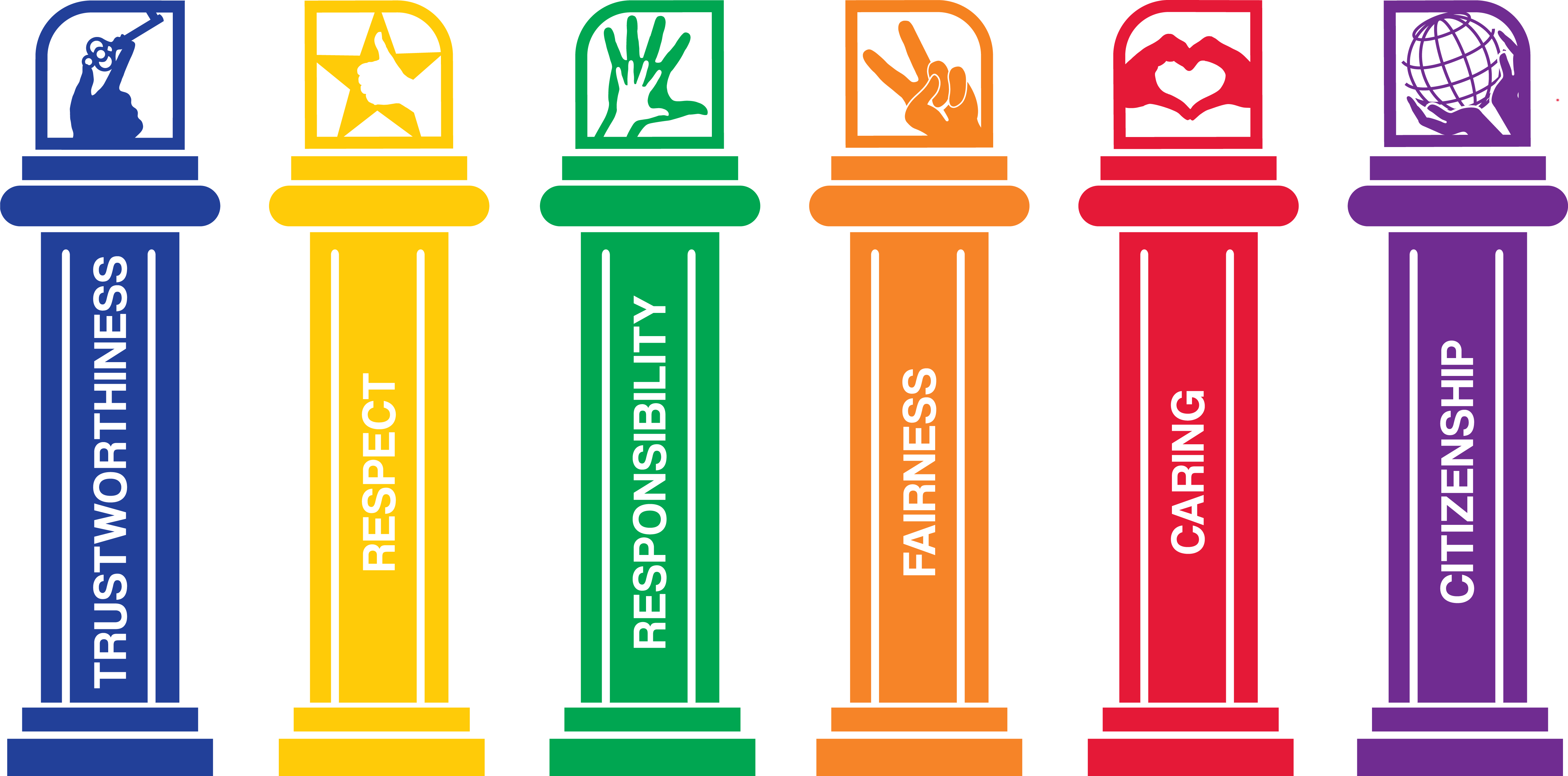 CSDR practices Character Counts! which is a character-education and ethical decision-making program incorporated into the CSDR curriculum at all grade levels. It promotes six "pillars of character":
Trustworthiness – honesty, integrity, promise-keeping, loyalty
Respect – courtesy, nonviolence, tolerance, autonomy
Responsibility – duty, accountability, pursuit of excellence, self-restraint
Fairness – openness, consistency, impartiality
Caring – kindness, compassion, empathy
Citizenship – civic virtue, lawfulness, common good
Character Counts! reinforces a safe and positive school environment conducive to teaching and learning including online learning. Students and their families are expected to model good character when participating in distance learning.
Character Counts! helps people make appropriate choices every day. CSDR educates students to become caring, respectful and responsible citizens and family members. All our schools are safe and welcoming, with climates that foster learning and character development.
TECHNOLOGY DISCIPLINE
School-Based Discipline policy encompasses the one-to-one/digital environment. Please reference our school website, CSDR Student-Parent Handbook (PDF)Opens in a new window or tab., page 56 for the Discipline Matrix guidelines in which discipline is progressive. Low-level, first-time infractions will have lesser consequences than infractions that are repetitive or more serious in nature. The appropriate progressive discipline steps for the individual would apply.
Warning
School-based consequences
Parent contact
Administration referral
Examples of Unacceptable Use conduct includes, but is not limited to, the following examples are:
Using the network for illegal activities, including copyright, license or contract violations
Unauthorized downloading or installation of any software including shareware and freeware
Using the network for financial or commercial gain, advertising, or political lobbying
Accessing or exploring online locations or materials that do not support the curriculum and/or are inappropriate for school assignments
Vandalizing and/or tampering with equipment, programs, files, software, network performance or other components of the network; use or possession of hacking software is strictly prohibited
Gaining unauthorized access anywhere on the network
Revealing the home address or phone number of one's self or another person
Invading the privacy of other individuals
Using another user's account or password, or allowing another user to access your account or password
Coaching, helping, observing or joining any unauthorized activity on the network
Posting anonymous messages or unlawful information on the network
Participating in cyber-bullying or using objectionable language in public or private messages, e.g., racist, terroristic, abusive, sexually explicit, threatening, stalking, demeaning or slanderous
Falsifying permission, authorization or identification documents
Obtaining copies of, or modifying files, data or passwords belonging to other users on the network
Knowingly placing a computer virus on a computer or network
Attempting to access or accessing sites blocked by the school Internet filtering system
Downloading music, games, images, videos, or other media without the permission of a teacher
Sending or forwarding social or non-school related email
Attempts to defeat or bypass the district's Internet filter
Deleting browser history
Using electronic resources for individual profit or gain; for product advertisement; for political action or political activities; or for excessive personal use
Making use of the electronic resources in a manner that serves to disrupt the use of the network by others
Unauthorized downloading or installing software
Modification to school browser settings or any other techniques, designed to avoid being blocked from inappropriate content or to conceal Internet activity.
ATTENDANCE POLICY
The extended school closure has caused strategic planning to ensure that our students are ready for the next grade level. Attendance and accountability for learning are important during the school closure. Our teachers are currently contacting students and parents through personal phone calls and virtual sessions to determine the family needs and how instruction will be facilitated from home. Attendance will be determined in various ways, including completed work, online contacts through MS Teams, learning packets, and teacher created classroom packets. If students are not completing work or participating in learning, teachers will be contacting parents, principals, school office technicians, counselors, and social workers to work with families to develop plans for student engagement based on the needs of each student.
Attendance is important to a student's success at the California School for the Deaf. California law requires students to participate in our distance learning every day and be on time for classes. Making sure their child participates in our distance learning is a parent/guardian's legal responsibility. Educational neglect takes place when parents/guardians willfully allow or keep their children out of school for inappropriate reasons. (EC49067)
Students who participate in our distance learning more than 5 minutes late according to our distance learning bell schedule must report to their department office.
Reporting Absences
Parents/Guardians are to call or email the school office before 8:30 a.m. on the morning of the absence.
GRADING POLICY
Prior to the school closure, the grading policy had been altered for March 13 through June 5, 2020 so that students would not be harmed by grading during the COVID-19 pandemic causing immediate distance learning.
For the 2020-2021 academic year, students in grades 6-12 will receive grades from A-D only; if an F grade is warranted sufficient documentation must be provided.
To receive credit and attendance for the courses for this 2020-2021 academic year, students are expected to attend sessions and complete assignments. The grading policy is located on our CSDR Student-Parent Handbook (PDF) Opens in a new window or tab.- page 38. If you have any other questions or concerns, please contact department principal.
PARENTS: LEARNING FROM DISTANCE LEARNING PLAN
Family Tips
The transition to 'Learning from Distance Learning may be challenging for some families. Families will need to carefully consider how they will support their child/ren through the home environment. These considerations will include how to set clear routines/structures and how to monitor the learning of each child. Some students may thrive, while others may be challenged by this new approach to learning. The challenges in the home environment may be different from a student's regular strengths and challenges in a school classroom. The eight guidelines below are intended to assist families with the most effective approach in supporting their child/ren to find success in a home learning environment.
1. Establish routines and expectations
Set home expectations and routines from Day 1 of distance learning.
Use the Daily Planner (Elementary and Middle School) to guide the structure of your day at home. We understand that this may not be convenient for all families and learning engagement can be completed at different times of the day in accordance with family routines.
Please check teacher messages/Microsoft TEAM chat at the start and end of every day and respond accordingly in receipt of the email.
Continue with regular morning and bedtime routines.
2. Define the physical space for your child's study
Consider a space within your home that is suitable for an extended period of time for distance learning
This should be a public/family place, not a child's bedroom.
One location identified, where the child can learn the majority of the time is helpful for a routine.
3. The space should be where an adult is present and where they are able to monitor the child's learning. Monitor communication from your child's classroom teacher.
Teachers will send notifications via Microsoft Teams and post an outline for learning each school day before 8:00 am.
Teachers will send instructions to students via Microsoft Teams.
Please be mindful that your child's teacher is supporting many families and that communication to them should be essential, succinct, and mindful of the pressure under this current situation. It is important to be aware that a teacher may not reply to emails or contacts immediately.
Emails to teachers after 4:15pm may not be responded to until the following school day. Teachers will attempt to reply to emails within 24 hours when possible, during a regular school week. We encourage families to ask their child to explain other learning platforms being used (i.e. Accelerated Reader, ST Math, No RedInk, ALEKS, etc.) according to the website, E-Learning Resources
4. Daily check-ins with students and parents
As part of the daily plans, teachers will contact students each day; this will include the morning instructions or period instructions with the learning plan for the day, as well as contact throughout the day.
Students and/or families are asked to send a response to the teacher to indicate receipt of the learning. This allows teachers to ensure that families and students have read the day's instructions. Families can share any questions or other information with the teacher at this time. The appropriate teacher will follow up with your questions/concerns by Microsoft Teams or agreed upon communication method, in a timely fashion.
Please also check in with your child as they work through their learning tasks. Some children can be hesitant to ask for help. Check-ins should be a regular part of your daily routine and should be established from the first day of distance learning.
5. Take an active role in helping your child process and own their learning
In a regular school day, your child has many interactions with other students and adults; including sharing ideas with a peer, participating in large or small group discussions, asking for clarification, and collaborating on group work, to name a few.
Some interactions are replicated in online platforms, but others may not be possible to do so.
Beyond the check-ins, families should regularly check in and engage with their child about their learning,
It is important to remember that the Distance Learning tasks are the child's work. Please do not complete learning tasks on their behalf and seek clarification if you are not sure how to support your child.
6. Encourage physical activity and/or exercise
Physical activity is an important part of health and well-being and has a positive impact on learning.
Elementary, Middle School, and Freshmen/Sophomore students will be contacted by the Physical Education (PE) teachers with weekly activities.
For these students who are not in PE classes, opportunities to participate in workout programs will be created by Student Life department.
It is important for adults to model and encourage exercise.
Ensure students are taking brain breaks and physically moving around. Brain breaks will be shared regularly with you by staff members. You may even consider chores and responsibilities that will get them up and moving.
7. Remain mindful of your child's stress or worry
Student wellbeing remains our highest priority.
It is important for parents/guardians to help manage their child's worry, anxiety, and a range of possible other emotions that they may be feeling at this time.
Allow opportunities to discuss feelings and emotions as a family and talk about the changes that are happening.
Continue with a regular routine as much as possible, as this will support your child best.
School counselors will be available for your child's well-being and social-emotional needs.
8. Monitor how much time your child is spending online
We are mindful of how much screen time we are assigning as a part of the Distance Learning engagement.
Please share feedback about how your child is progressing with their learning via email correspondence with relevant teachers.
Many activities or learning sequences will be set online, this does not mean that have to be completed online. Follow the online instruction and make, play, do, create using hands on approaches.
We are mindful of when students begin to miss their friends, classmates, and teachers. Help your child maintain contact with friends by videophone, video calls, or other means when appropriate.
Please monitor your child's social media use, especially during extended school closure.
TikTok, Whats APP, Snapchat, etc. will NEVER be used or encourage by the school.
When using learning platforms such as Microsoft Teams, students are to comply with the policies and acceptable user agreement.